Hirnsäule is a fast, melodic band, recorded cleanly but with power. Without losing momentum, they manage a good amount of mixing up the pace and having stop- start bits. The vocals are mostly yelling, but get real snotty when sung. Yeah!" (MAXIMUM ROCK 'N ROLL .. 268 - September 2005)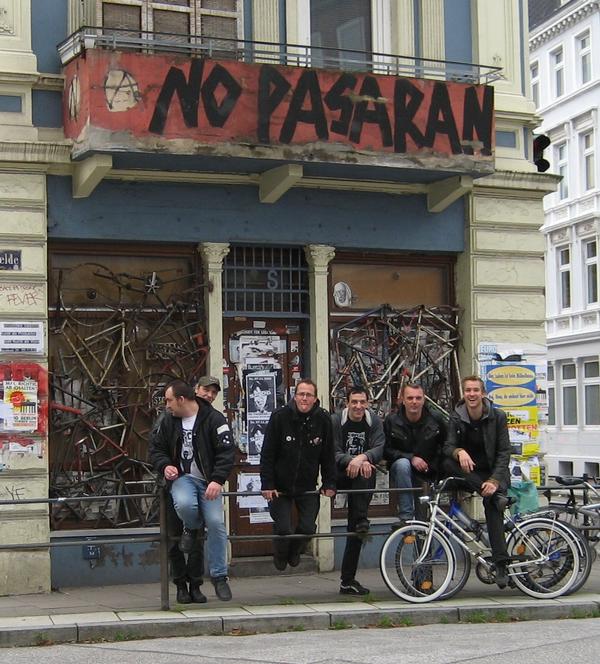 November 2009, in front of the Lobusch, Hamburg.
The band was born on a concert of the punk band "1 Mio Sachschaden" in spring '98 as a consequence of a wonderful misunderstanding. A guy in the pit didn't get the lyrics: " What do you sing??? Hirnsäule??? And Heiko (Voc.) and Linde (Bass) thought: "Cool name for a second band". So they formed "Vibromaxx" but changed the original name soon into "Hirnsäule", which is a word, that doesn't exist but means something like "brain column".
After the punk legend D.A.S.H. from Osnabrueck broke off and several drummers were changed the band found something like a solid core: Steffen (git.), Digger (git.) and Arno (drums) joined Heiko and Lindeselbst.
After one year locked up in the rehearsle room Hirsaeule released it's first LP "Balladen aus der Bretterbude" on Linde's label UMSTURZ RECORDS. Again one year later they released the six song EP "Ich weiß wo dein Haus wohnt" (I know where your house lives) which was pretty successful. November 2003 "Das Gerät" (LP), a great disk with self made covers, has been brought into this world. A demo tape and a live CD followed in 2006 to give away on our spain tour. For the 10th anniversary of the band we released a neat photo-album that comes with a Maxi-CD, including 4 songs about the radio. We just released a new CD (SALTO MORTALE) in 2010, which was recorded in a 3 hour studio session on a cloudy winter afternoon. Again, this CD comes with handmade covers and a nice artwork. For all of you, who are waiting for vinyl: We have to find a another band (in spain?) to release a split-lp!
Since September 2004 "our son" Martin is loosing his voice for the band. He brought lots of new winds and a little change in sound and style of the band.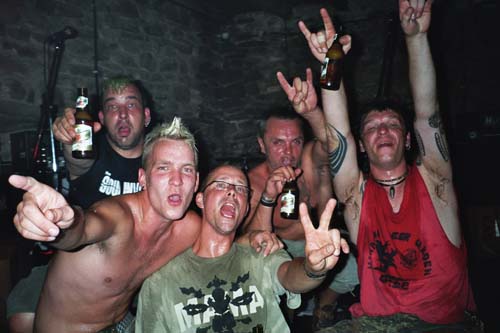 22.7.2006 ,Orbeko Etxea, Llodio, Spain
There are plans to take over world domination which will bring us to your town, too. We play on any stage, toilet, squat, concert hall, etc. If you want us loud and wild don't hesitate to contact us!

contact

martin.mauritz //at// gmail.com
or here: Kontakt!

reviews

Ok, so here's some weird cool stuff if you're a punk rock fan that doesn't speak German, but doesn't mind or thinks it's neat when others do. From the best I can tell, this release is called "Salto" from the German band, Hirnsäule. The band's name appears to mean "brain pillar", which I take to probably mean "spine" … I could be way the hell off. This "disc" was a digital download, so I don't have any concrete publishing information, so I just attributed it to the band.
On to the music though. Salto contains 15 tracks of DK/Dickies-esque warbling vocal frenzied punk. Some of the tracks are in English, some in German. Honestly it isn't the easiest to decipher which are which. This doesn't detract in any way from the enjoyment. I'd venture to guess that the tracks with the English titles are the ones that are done in English. I'll let you be the judge of that though. http://www.hirnsaeule.de
The similarity to Dead Kennedys is both apparent and apparently genuine. That aside, the music is quick paced and quirky. The overall feel is garagey with just enough polish to make you want a catch a live show to compare the difference.
This is good stuff and just goes to show that in the crazy digital age, music is more accessible than ever. Maybe that takes some of the eliteist fun out of it, but so what. It's a big damn world get out there and explore it a bit, even it you never leave your house.
–Jerry Actually (upstarter.com)